MR WINSTON – Creating a chatbot tutor for the English language in VET
Learning multiple languages is important, no matter where in the world you are. One language that is incredibly important to learn, however, is English. Although it is a key skill for employability, it is not yet mastered by all learners, and the level of European students in English is very different from one country to another. Even though several mobile learning tools exist to tackle this challenge, their impact is limited by several factors. A tool that cool help make the teaching of English more inclusive, however, are chatbots.
According to the latest EU Survey on Language Competencies, in 2012, English is by far the most taught foreign language in nearly all EU countries at all educational levels. Furthermore, it is a key skill for employability: the Commission Study on Foreign Language Proficiency and Employability (2015) revealed that over 4 in 5 employers interviewed and 3/4 of advertised online vacancies stated that English was the most useful language for the jobs discussed in all sectors and in almost all non-English speaking countries.
Chatbots could help learners acquire this key skill. They are conversational agents operating over a messaging app: they are very easy to use for youngsters especially, and anybody else who uses a mobile phone or a computer. In addition, they have a great potential as an educative tool as they offer all the necessary functions to tutor students in reviewing their lessons: they can deliver pieces of information, evaluate whether learners understand the information given, send feedback to teachers to help them understand what learners understand best and where they have more difficulties, which in turn helps teachers adapt their classes for a better group and individual progress.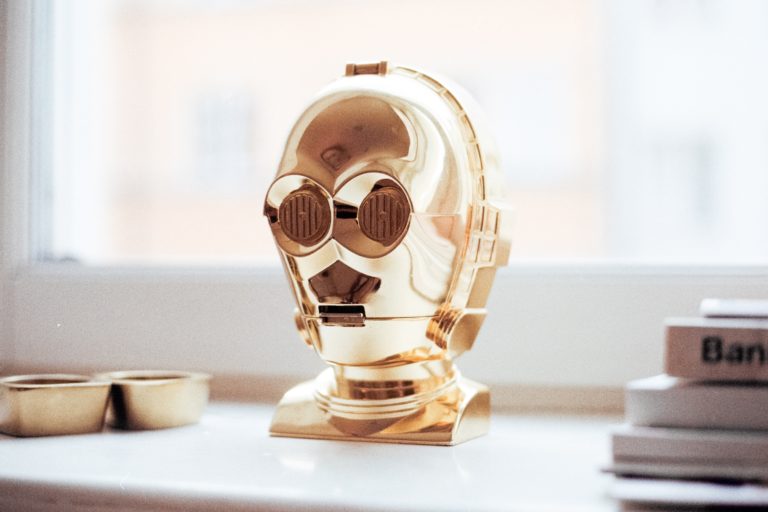 It is easier to review your lessons when you have a friendly bot available to help you at any time.
Photo by Jens Johnsson on Unsplash
Chatbots, as conversational agents that are available 24/7, offer the following advantages for education:
Spaced interval learning: chatbots remind learners about old lessons when they are about to forget them,
Conversational course assessments: learners test their own capacities and knowledge as part of a conversation with a friendly chatbot (chatbots are generally supportive to make sure users have an engaging conversation),
Through automatic scoring of the learners' small tasks and answers, teachers can understand better what learners understood so they can adapt their classes
Personalized learning and learning at a more adapted rhythm: chatbots can offer more adapted learning rhythms to the learners by offering them complementary information when they need it, and they can also communicate transfer learner's questions to teachers for them to understand what learners understand or where they struggle, so they can adapt their in-class teaching,
Mobile learning experience: learners can have small studying sessions wherever they are at any time, which ensures more regular lesson reviewing and in a lighter yet effective learning experience.
Thanks these characteristics, chatbots can be a great tool to either allow independent learning of languages or, even better, to support the reviewing of lessons after language classes.
'Mr Winston' is a project aiming at creating a chatbot to tutor learners of the English language in VET education. It will take into account the needs of all kinds of learners: regular learners, learners with learning disorders, socially disadvantaged learners, etc. It is an answer to the tools and apps that already exist, in the sense that they exclude most of the learners since they provide no explanations and leave the learners to face their problems on their own. In other words, most existing language learning apps are elitist as they only suit the needs of learners who have a good enough level to look for answers on their own.