Comics are an amazing teaching resource that allows to teach all sorts of concepts. Their application in classroom settings is as broad as the imagination of the teacher. Nonetheless, a quite common practice, especially for teachers who have been using comics, is comic creation.
Comic creation can be done by the students themselves and benefit from the production process by learning actively and developing new skills; or by teachers in order to produce and provide tailor-made comic material to their students.
The advantages of creating comic strips are numerous. As we have seen in previous articles, comics use visual-verbal connections which is an excellent way to train our brains and to facilitate writing, reading comprehension and meaning-making. When learners are put on the side of production, they first need to identify the connections, make the script of the comic story, and finally put all of this on paper. This not only helps them improving their writing skills, but also their imagination, planning and organisational skills. It also helps in increasing students' confidence in their abilities and may even prompt a further interest in reading.
In this sense, involving learners in comic creation can renew the didactics of writing and be an asset in developing students' precision and comfort with language production. Furthermore, it is a fun and creative way to explore language in relation to visual elements and comic characters, and increase students' participation and involvement in learning in general.
Learning by creating comics can be particularly helpful for learners with learning difficulties or specific learning disorders. Graphics support the language and create a context with a setting, objects, and characters who show emotion and action. This can assist visual learners or learners with difficulties or SLDs, to feel comfortable to pair visual images with words, organise ideas by using this connection (words and images) and use the same elements to support comprehensible output.
Another essential aspect of involving learners in the comic creation process is to have them build artistic and expression skills. As any other kind of creative work, when the reader is trained to make a comics strip or page, comics become a means of self-expression, innovative thinking, and knowledge restitution.
In similar ways, comic creation is a great practice for the teachers as well. When a teacher creates a strip for his/her classroom, it aims at assisting learners with visual materials that contribute to comprehensible input. The teacher can also adapt the illustration, language and context of the strip depending on the abilities and needs of the students.
Teachers can opt for handwritten comic material, but to facilitate the process and the quality of the outcome, there are many useful tools available that are designed for digital comic creation. Digital comic creation can only be beneficial for teachers and learners, and it is important to discover digital tools that students can use for their studies or later in their personal or professional life.
Here's a short list with currently available digital tools for comic creation:
If you are now exploring comics as a part of your teaching practice, or if you are keen on using them already, or even if you are not yet familiar with the comic word and never have introduced them in your classroom, you can learn more about this engaging and creative learning process through our Erasmus plus funded project "EdComix"! Visit the project's website and find useful resources and an e-learning module of 24 courses, that can help you introduce comics and digital comic creation in English language learning!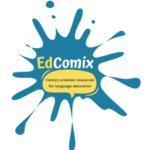 An Erasmus+ project
Visit the project's website


Follow the project on Facebook : @EdComix
#edcomix #erasmusplus
In collaboration avec : YuzuPulse, 'Mihai Bacescu' Technical College, Areadne, Babel idiomas, Citizens in Power