When technology helps us escape
In such unusual times, we are forced to adapt to a new rhythm and lifestyle. To do this, technology has some advantages. It allows us to stay online, to continue to connect with others and to escape… virtually.
This strange period witnesses the spread of new practices: teachers are trying to keep their students motivated through interactive, didactic, and playful online courses. Employers are thinking about ways to keep their teams active, dynamic, and cohesive. Museums, cinemas, festivals, and sports events are reinventing themselves to continue to exist and share their wealth with us.
To do so, each one uses specific technologies. If videos and video conferences are the most common, other more innovative technologies are used as well. In this article, we propose you to discover examples of the six technologies presented in project DIMPA, namely: 360 video, augmented reality, augmented printing, interactive videos, digital books (or e-books), and virtual reality. Together with the project partners, we are currently developing a MOOC to introduce content creators to these tools. At the bottom of this article, you will find a link to pre-register to this MOOC, which is planned to start in September 2020.
To illustrate the technologies discussed in the MOOC, we propose you to explore a few finds that mix technology, education, and escape. Feel free to share your discoveries with us on social networks!
Some activities with augmented and virtual reality for children
To begin with, here is an activity that links technology with creativity, poetry, and dexterity: an animated colouring book on the themes of Leonardo da Vinci, Pompeii, The Little Prince, transportation, and Picasso. It is a great way to combine paper creation with digital animation, all on instructive and artistic themes. When your child's drawing is finished, it comes to life thanks to augmented reality and tells a story. The colouring pages is available on the website of Editions Animees (in French).
To stimulate the curiosity of small and big children, Google recently launched an application called Google 3D Animals that allows you to view wild and domestic animals in augmented reality in your living room. The experience is rather whimsical and will save you from having to clean tiger hair or penguin feathers from the sofa afterwards 😉

Culture and museums continue to make us dream thanks to 360° video and virtual reality.
If you need to get some virtual air, why not take a little street art tour? The Street Art application has listed urban murals, graffiti and other tags from around the world on an interactive map. Just click on a location on the map and follow the guide!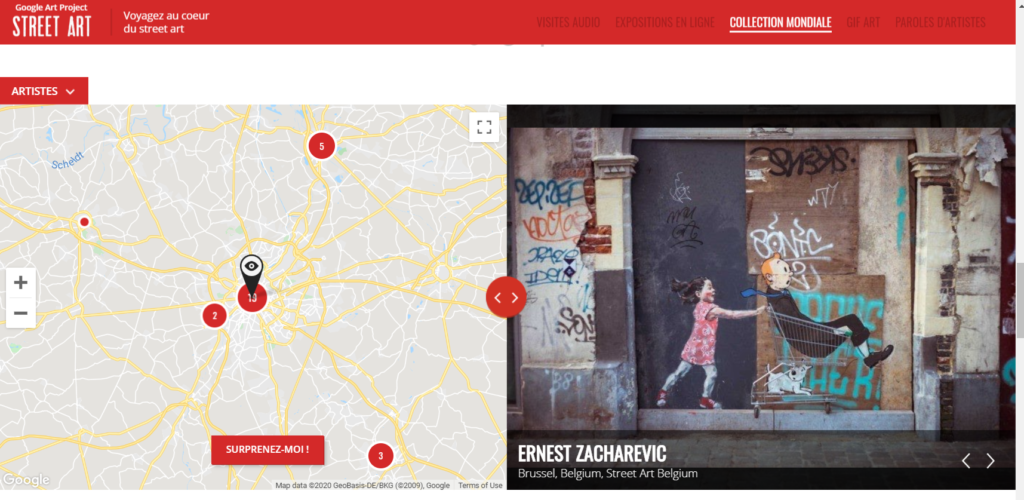 If you have always dreamed of contemplating the major artistic works of the Vatican, the Louvre, the British Museum and others, many museums make their collections available via online tours with 360 videos and virtual reality tours. Some museums offer experiences directly on their website, and you can find a wide selection of museums on Google's Arts and Culture platform.

If you have a virtual reality headset, you can visit the Palace of Versailles and its sumptuous gardens or explore archaeological sites such as the Chauvet-Pont d'Arc cave.
Escape through reading thanks to e-books
Since the library is closed and you have already read all your books again and again, you should know that digital books (otherwise known as e-books) are a real gold mine!
And to explain the current crisis to your children, here is an illustrated book developed by the United Nations Office for the Coordination of Humanitarian Affairs entitled "My Hero is you" that will allow you to approach this topic with simple words.
Finally, if you are fascinated by all these technologies and have some time left, this may be the time to pre-register for the DIMPA MOOC to understand how you can appropriate them and develop your own digital projects!
This MOOC will be the result of the Erasmus + DIMPA project, which aims to develop a training course to answer the lack of digital skills in Europe, beyond borders and professional sectors.