Today, more and more teachers introduce comics in their classrooms, to make the teaching and learning experience engaging, efficient, effective and fun!
Comics can make a "boring" information more exciting, while through storytelling and storyboarding, they can turn lessons into stories and simplify abstract concepts. The language of cartooning is engaging and motivating, offering an alternative literary format which 'speaks' to students in a way they understand and can identify.
The combination of images and words fosters student's imagination and allows both the visual and the verbal learners, to participate, follow up the story and enjoy the learning process. This is a great aid particularly for learners with specific learning disorders (SLD) such as dyslexia, for instance. It is also an excellent way to train the brain in visual-verbal connections, and develop cognitive skills such as writing, reading comprehension, creative thinking and meaning making.
Specifically, using comics – comic strips, comic books or graphic novels – for learning can help in…​
Enhancing reading skills:
In comics, image support the text and students can follow story beginnings and endings, plot, characters, time, setting, sequencing without needing sophisticated word decoding skills.
Reading comic books offer a structure and a guide for processing the information, which is very helpful for struggling readers and learners with short attention span.
Comics also support beginning and/or de-motivated readers and help them increase confidence in their abilities.
Reading comics is fun and can aid develop a habit of reading.
Comics welcome and empower readers of all literacies, backgrounds and experiences.
Enhancing writing skills:
Reading comics can help students who lack the written language skills to start and follow a sequence of ideas and then draw their writing to a logical conclusion.
Comics encourage students to reach for images to support their language ideas.
Using images and cartooning, helps in resolving problems of storytelling.
Comics support students with low interest in writing and help them build confidence in their writing production skills.
Like in reading, comics provide a scaffolding so that students experience success in their writing.
Students transfer specific elements from text-only writings in comics. For example, using language symbols such as the quotes when they transfer the text which is word balloon.
Increasing recall and problem solving:
Mixing image and text, leads to a much easier understanding and memorisation of the key information.
Comics present only the essential information, encouraging students to 'fill-in the gaps' and create meaning out of the visually represented knowledge.
Comics spur student's imagination and can foster creativity, problem-solving and higher-level thought processes.
Using the above-mentioned functions, comics can support students who have difficulties but also enrich the skills of accomplished readers.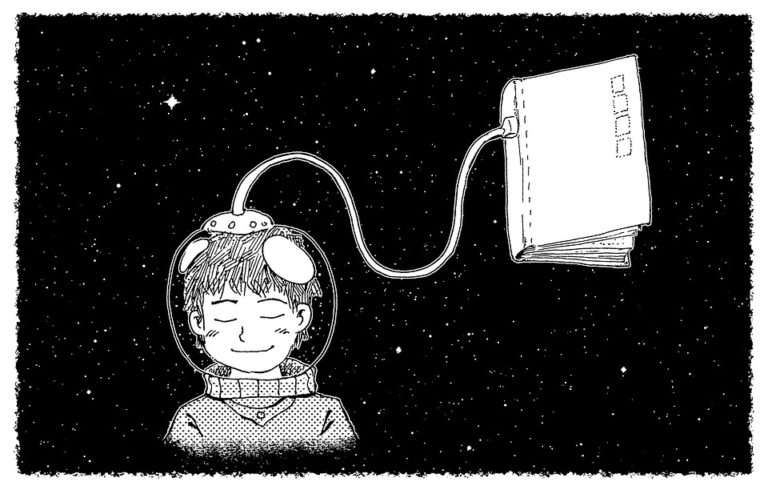 Image by pixabay.com
Comics have a real potential as an engaging and efficient medium for learning, but also helping teachers expand their methodology and resources in a variety of subjects. Here below, are some benefits of integrating comics strips and books in the classroom in two examples of subjects:
Language learning:
In comics, graphic illustration supports the language by creating a context which helps students to understand and give meaning.
The language in comic strips can be entirely in a style of dialog, which makes the language more accessible.
Comics provide narrative experiences for beginner readers as well as for students acquiring a new language.
They can be short and help in memorising new words.
Educational or not, comics can have a high average vocabulary level.
Comics use every-days' spoken language, which makes learning more relevant and realistic.
Comics can support inclusive and participative teaching practices in language learning.
They can be used in any age or level, making the learning activity interesting and fun.
Students practice new reading styles and link them to their everyday lives, experiences and current issues. Comics are modern and can move further from the traditional teaching material and books for language learning, to discuss contemporary issues faced by students of all ages, genders, and races.
History:
Blending words and pictures, readers are able to "see" the characters through the illustrations, and this makes the historical facts more attractive and easier to remember.
Reading history using comics help develop much needed analytical and critical thinking skills, fight traditional tropes and open the learners' mind.
Comic books facilitate teaching history in a non-traditional way, encouraging students to read and think beyond the pages of the book in order to ask and answer deeper questions that the given work and historical fact suggests.
Comics can help with teaching challenging historical units and units on contemporary and important global affairs which can have an extra level of complexity or involve politics. In these cases, the need to humanize the conflict becomes even more crucial, and the benefits of comic books' unique form, come through clearly.
Art Spiegelman's 'Maus' I and II, is a great example of a comic book for teaching history. It retells the story of a Holocaust survivor (the author's father), using an extended animal metaphor by which the nationalities of the people involved are represented by various animals.
Logopsycom is working on the Erasmus + project: "EdComix" to spread knowledge about using comics for English language learning in an inclusive way (Specific Learning Disorders but also socio-cultural differences). The project will provide teachers and students with the tools to create their own comic pages for innovative pedagogy.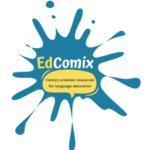 An Erasmus+ project
Visit the project's website


Follow the project on Facebook : @EdComix
#edcomix #erasmusplus
In collaboration avec : YuzuPulse, 'Mihai Bacescu' Technical College, Areadne, Babel idiomas, Citizens in Power