VAMooc includes a set of free tools for initial vocational training for students and continuous training for professionals on how to work as a virtual assistant, considering the work and business skills required. A virtual assistant (VA) is a person who provides administrative, creative or technical support services to other business owners. By taking on recurring tasks and administrative work, they can free up time and offer flexibility to their client. In addition, VAs can contribute to a greener and more digital workplace, in line with the needs of modern companies. As a result, VAs represent the fastest-growing segment of the EU labour market.
Furthermore, companies increasingly outsource non-core tasks and functions to cut costs. We aim to create a MOOC on how to work as a VA, considering the skills and knowledge to be developed and the specific business skills for such jobs. The primary objective is to offer an innovative and inclusive tool for all students, including those with SLD (Specific Learning Disorder), by providing practical tools and methods to make the service industry and entrepreneurship more inclusive. In addition, this course aims to reduce the environmental impact of the use of digital technologies in the workplace by training eco-aware digital specialists.
The MOOC contains materials and methods of a VET (Vocational Educational Training) course, with tutoring tools and guidance for virtual assistants. This course will offer a balanced mix of vocational skills and create work-based learning opportunities. It will be designed for training and active professionals to develop or improve an existing business, generating inclusion through work. The virtual assistant is now a real career based on evolving jobs, working methods, and market needs making the most of key and digital skills. A tutoring chatbot will accompany the entire course, a series of information sheets introducing the various technologies, and a practical toolbox, which will be open to any student (not only active or aspiring VAs) who wish to develop their digital skills. This course stems from the need to mitigate the social exclusion effects of the digital divide through the development of ICT (Information Communication Technology) skills in all professions to foster inclusion through these acquired skills. Considering that 10-15% of the EU population have at least one learning disorder and tend to be overrepresented in VET, there is a need for adapted training material. Such training is not only accessible to those who have a higher education degree, but they are jobs that can be done remotely (socio-economic inclusion), are less time-sensitive than office jobs and therefore make it easier to manage one's schedule (especially important for those who have to take care of their family or need medical treatment), and can be convenient for people with disabilities who can adapt their work environment according to their needs. All project material will be adapted to the needs of people with learning disorders. The course content will be accessible to people with hearing impairments, thanks to video subtitles.
The project has been developed in 6 languages (EN, FR, DE, ES, GR, PL). The practical results of this project will be:
Pedagogical guide introducing what a virtual assistant is (what their activity is, where and how they can work etc.) and collecting existing research
Collection of descriptive sheets on the work of a VA, contractual/commercial skills and technologies
MOOCs to train future virtual assistants and current professionals who wish to consolidate their knowledge and skills in the three aspects of a virtual assistant's job, including tools and tutorials
Tutoring chatbot (conversational robot operating on a messaging platform) providing guidance, additional resources, coaching and tips to learners
Toolbox for VAs collecting practical tools and resources available for their activities
Set of guidance material for educators to adapt the MOOC and project outcomes in a VET training course (workshop scenarios, lesson plans, ECVET guide)
Keep following us so you don't miss the rest!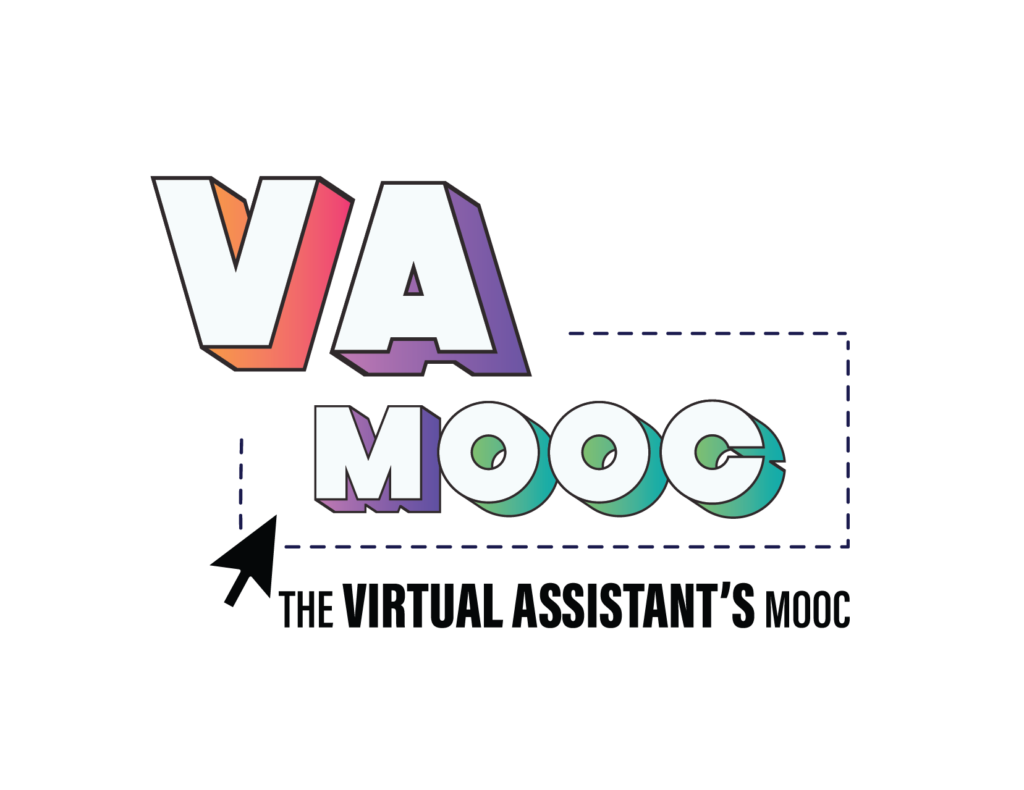 Project website : www.virtualassistantmooc.eu


Follow the project on Facebook: @Logopsycom
#VaMOOC #erasmusplusproject