From Seeds to Tales and back again
What are Seeds? Who are Tellers? Explore with us the different meanings that are hidden in the title and idea of one of our projects.
In the previous article, we explained how "Seeds of Tellers" project aims at using Tales to promote oracy and therefore, reinforce the development of all other basic skills a child should acquire; grammar, reading skills, calculus, etc. Here we would like to focus on the Seeds. Indeed, with Seeds of Tellers, we will know a lot about Tales but what about the Seeds? What is it? What does it have to do with Tales or Tellers? What could be the symbols behind all those words?
In French "graines de conteurs" basically means Tellers in the process of being created, a beginner so to speak, but it's more than that. A Seed is something precious because it symbolises "potential". It is a small space containing a future that exists in the present in its unrealized form. It's alive, but dormant. It's unassuming but can grow to be an enormous tree. A Seed is waiting for the right moment, the right conditions, to unfold, grow and flourish.
Depending on your seed, different conditions will be necessary in order to make it grow. A little bit like the children we are hoping to reach with this project. We believe that with the right method, the appropriate tools, a lot of patience and support, they will discover the wonders of tales and flourish.
Indeed, we believe that discovering the art of oracy through tales can help children in a variety of ways, such as:
Build their confidence in expressing their ideas
Promote good grammatical structure in both oral and written expression
Help them integrate the natural chronology of a story or events
Encourage them to speak in public in a clear way
Stimulate their imagination and nurture their self-esteem
Fodder their literary and popular culture
Helps them bond with other children over common knowledge
Here, we can see that through "Seeds of Tellers" children have a possibility to develop their oracy skills. Once they've grown from Listeners into Tellers, they will be the ones helping other Seeds (children) to grow by telling them stories. It is like a never-ending cycle.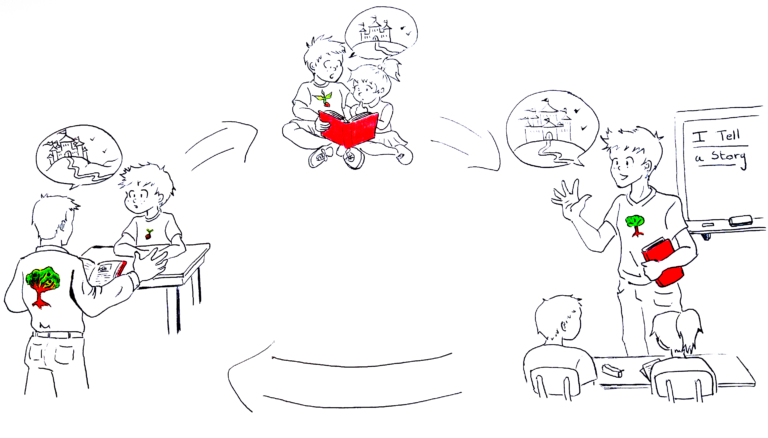 But the Seeds are not only a way to symbolize children. In a way, Tales can be seeds as well.
Tales are almost as old as humanity. They were the first way used by humans to transmit knowledge and wisdom. And even though they are so old, we still tell tales today.
At first, they were stories transmitted orally, bearing meaning and important information. They were ways to explain the unexplainable. Mythology, Religion, Legends, they were all Tales at first. Then, they were preserved in writing. They were transmitted through paper or parchment but were still meant to be told, like a bedtime story or a great legend.
In modern times tales are still being told, but they are ever changing, evolving, reinvented. Indeed, the era of television and screens is the next step in tales' growth. We can find them living on in Disney movies, various streaming channels series or commercials. Some of them even begin with a voice telling the viewer, "Once upon a time, …".
We even went one step further and digitalised Tales. Now Tales can be a thread on Twitter. They can be written by multiple people simultaneously. They can also be written by anyone as a fanfiction for example, people taking an existing Tale, book, movie, series, and spinning it differently. There is a wide array of platforms and ways to spread Tales. Some people film themselves telling tales and create whole YouTube channels about it.
This is great because of the diversity of supports and styles but it can also dangerous because of the mass of information and of the lack of contextualisation sometimes that can be misleading. We tend to lose the original meaning of the Tale in the flood of reactions, comments, transformations and re-tweeting. We should re-learn how to tell Tales and how to receive them.
So, Tales are like ideas that were planted a long time ago. With time, they were sown throughout different countries, translated, adapted. But as they grew, they planted their own seeds in the minds of the next generation of children. In a way, they are the seeds of our culture, of our history. Being planted and sown through time. They therefore need Tellers, who will plant them in turn and keep them alive.
Tales and Tellers are both Seeds in their own way. As Tales help shape the minds of Tellers and Tellers tell the Tales. It's a never-ending cycle of renewal, of transmission, teaching and that is why Tellers and Tales are inseparable. It is the reason why it is so important to plant the seed of passion for stories at a young age.