The European Union is one of the regions with the highest percentages of elder people in the world. This situation is an opportunity, as can be seen with the development of the "silver tourism" concept.
What is Silver Tourism?
Silver Tourism is an area we can include in the broader "silver economy" concept. The European Parliament defines the "silver economy" as including the elder people in economic activity by creating products and services adapted to their necessities. The tourist sector targeting older people is one of the areas that needs more development. Despite its benefits for their physical and psychological well-being, it shows a low participation rate of seniors in Europe.
Who are the silver tourists?
Elder tourists are not a homogenous group. One of the main differences is age since we can find different generations with different needs in the same group (Zsarnoczky et al., 2016). The level of education and the monthly income are also determinant factors to choose when and where they travel. It is interesting to point out that senior tourism is very feminised, with statistics showing that elder women do more tourism than elder men and tend to travel to socialise more with locals and their families.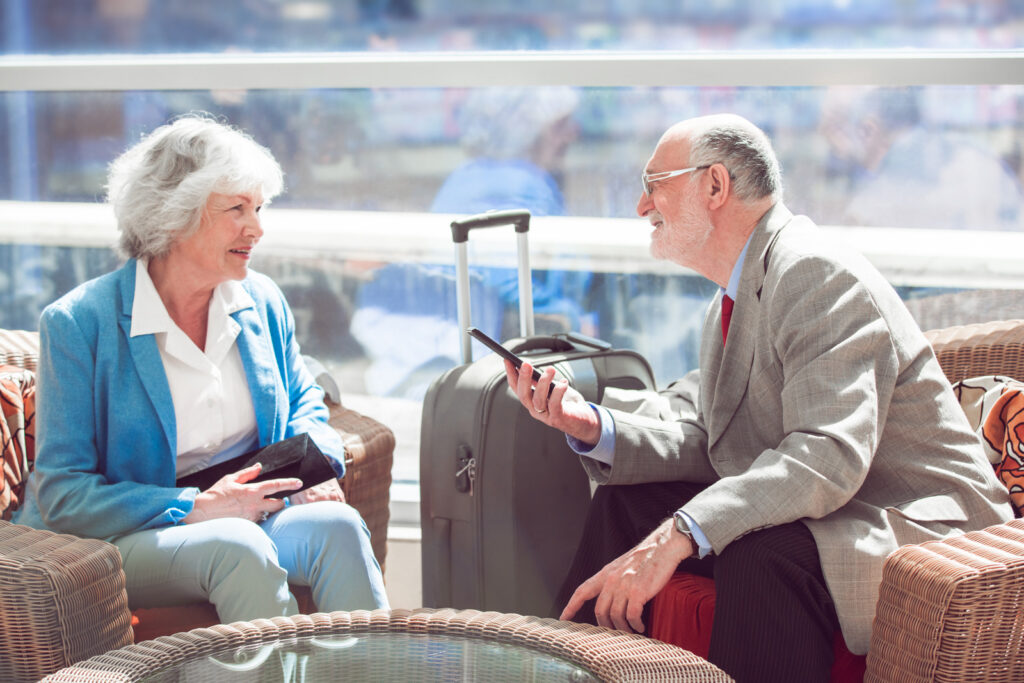 Some general characteristics of elder tourists are that they have income to travel, they are primarily women, and safety is a crucial point for them; moreover, when they travel, they mainly do it inside Europe and are more flexible with dates as well as they are interested in sightseeing and cultural education and consuming health and recreational services; furthermore, they need good communication, and the accessibility is a core point when choosing the type of transport (Zsarnoczky et al., 2016).
Elder people and technology
The relationship between elder people and technology is changing. The UNECE statistical database shows that the percentage of elder people (between 55-74 years old) using the Internet from 2008 to 2017 increased significantly, even if there are significant differences between countries. When we talk about using the internet as a tool for tourism, it is only used by 9.24% of seniors, being the most used method (19%) by family and friends.
Society is changing demographically and technologically, and we need to accompany all social groups in these changes to avoid inequality. In areas like silver tourism, projects such as Silver Tourism are required to improve the training of tourist operators to accommodate the needs of elder tourists and to adapt the digital tools used in the sector. This project aims to develop guidelines, an open-source guide, and a training kit for tourist operators to satisfy and accommodate silver tourists' needs. To create a robust silver tourism sector, we need to adjust to the realities of this population so they become our future.
Bibliography
European Parliament. (2015). The silver economy: Opportunities from ageing. https://www.europarl.europa.eu/thinktank/en/document/EPRS_BRI(2015)565872
Kežman, M., & Goriup, J. (2022). Factors Affecting Tourism Activity Selection among Silver Hair Tourists. Academica Turistica, 15(3), 381-395. https://doi.org/10.26493/2335-4194.15.381-395
Martyshenko, N. S., Kmet, E. B., & Kim, A. G. (2015). The Study of the Cycle of Packaged Tours from the Primorsky Territory. International Journal of Economics and Financial Issues, 5(3S), Article 3S.
OECD. (2021). Pensions at a Glance 2021: OECD and G20 Indicators. OECD. https://doi.org/10.1787/ca401ebd-en
Puşcaşu, V. (2017). Silver Tourism as a Possible Factor for Regional Development. A Case Study in the South-East Region of Romania. Revista de Tourism, 24, 82-88.
Stjernberg, M., Sigurjónsdóttir, H. R., & Wøien Meijer, M. (2021). Unlocking the potential of silver economy in the Nordic Region. Nordregio. https://urn.kb.se/resolve?urn=urn:nbn:se:norden:org:diva-12040
Taloş, A.-M., Lequeux-Dincă, A.-I., Preda, M., Surugiu, C., Mareci, A., & Vijulie, I. (2021). Silver Tourism and Recreational Activities as Possible Factors to Support Active Ageing and the Resilience of the Tourism Sector. Journal of Settlements and Spatial Planning, SI(8), 29-48. https://doi.org/10.24193/JSSPSI.2021.8.04
UNECE. (2017). Percentage of Population Using Internet by Age, Sex, Variable, Country and Year. UNECE Statistical Database [dataset]. https://w3.unece.org/PXWeb2015/pxweb/en/STAT/STAT__30-GE__09-Science_ICT/02_en_GEICT_InternetUse_r.px/table/tableViewLayout1/
Zsarnoczky, M. (2016). Innovation challenges of the silver economy. VADYBA, 28(1), 105-109.
Zsarnoczky, M., David, L., Mukayev, Z., & Baiburiev, R. (2016). Silver Tourism in the European Union. Geo Journal of Tourism and Geosites, 18(2), 224-2232.