Language learning has become one of the top priorities in the European Union. It allows for better collaboration and exchanges between member countries. Learning European languages also helps promote European Cultural Heritage as these languages reflect the values and culture of the different countries that make up the European Union. In 2017, the Council of Europe called all member countries to promote multilingualism among young people so that they all learn to speak at least two European languages in addition to their native language. Moreover, foreign language assessment will also be part of the OECD's 2024 PISA tests, showing that language learning has become one of the top priorities in the education sector.
Language teaching is organized around four main linguistic skills, namely reading, writing, listening, and speaking. Teachers often have to be creative to help their students develop those skills and practice regularly in order to acquire fluency in their target language. This is why they are always on the lookout for innovative ideas and learning experiences to implement in their practice. In order to develop linguistic skills, a learning experience needs to provide a high enough level of immersion and engagement to the students.
Escape Rooms (ER) are games in which the players need to find clues and solve enigmas in order to escape a room, open a box, save the world, etc. As these games are set in a specific scenario, the players become active characters of a story, thus feeling engaged and immersed in the experience. Escape Rooms have been explored in education in the recent years as they are a great tool to increase students' engagement and motivation. The immersive aspect of the game is a great path to explore for language education as it allows learners to develop their skills with the final goal of the game. By collaborating with their classmates in their target language, students will practice by necessity, and will therefore find it more motivating.
In addition to helping improve language skills, Escape Rooms are also a great tool to develop soft skills such as creativity, communication, collaboration, critical thinking, or time management. According to LinkedIn Learning, these skills are among the top 10 that recruiters look for in a candidate.
Our new project SpeakER will therefore explore the use of pedagogical Escape Rooms for language education with a level specification according to the Common European Framework of Reference for Languages.
The project will do so by developing the following outputs: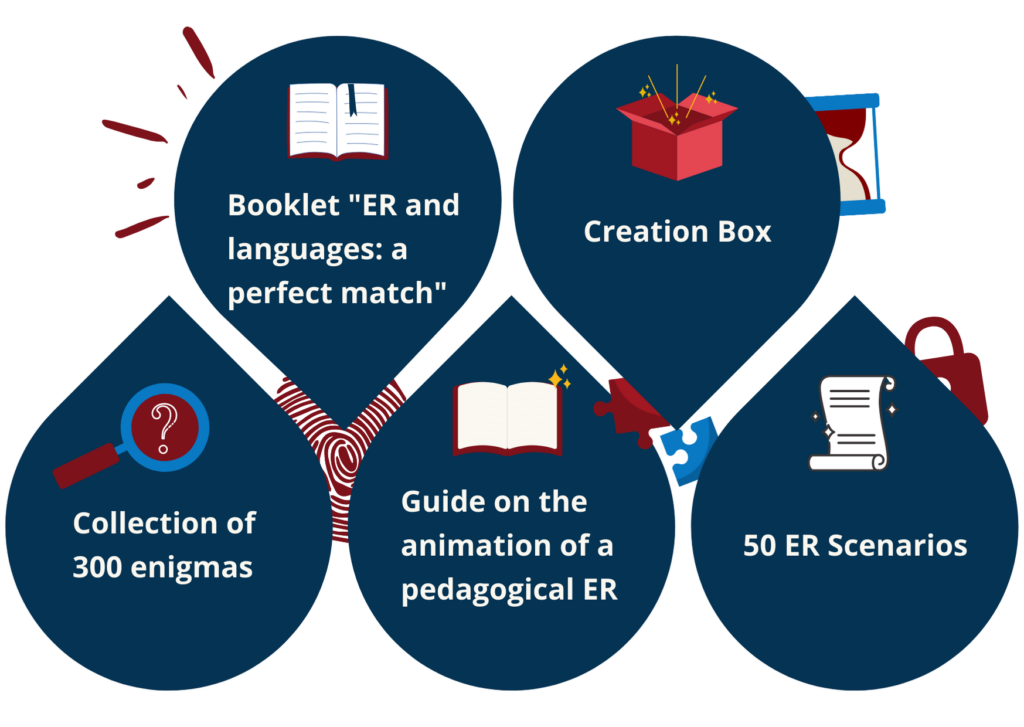 These outputs will serve different purposes. First, we want to inform language teachers of the different possibilities that the use of pedagogical Escape Rooms can offer in their courses. The next one is to guide them in creating their own ER by providing them with a framework and roadmap, as well as a collection of tools, resources and inspirations. The partners will then develop 300 enigmas and 50 scenarios in different languages to provide examples and ready-made material. The ER animation guide will then be useful for teachers to understand how to practically use and implement these games in their language course.
Learning a new language is often a challenge for any student since it can require adopting a completely different structure and memorizing a large amount of vocabulary, idioms, and grammar rules. This is all the more challenging for students with a learning disorder or other disabilities. For instance, students with dyslexia can have more difficulties with memorization, phonological awareness and reading skills, which are central to language learning courses. As we are specialized in inclusion for people with Specific Learning Disorders and other disabilities, our participation in this project will ensure that the created resources will be adapted for specific educational needs. From the very beginning of the project, guidelines will be explained and a common framework for inclusion will be set and followed throughout the project duration.
This project will last for two years during which we will keep you posted on the created material and will share resources on how to create and use pedagogical Escape Rooms for language learning.
*Answers:
1st error: threee has 3 "e"
2nd error: the word "erors" is missing an "r"
3rd error: the sentence is wrong, there are only two errors

Project website: speakerproject.eu (under construction)

Follow the project on Facebook: @Logopsycom
#SpeakERProject #erasmusplusproject
Our partners in this project are: YuzuPulse, Babel Idioma y Cultura, Colegiul National "Doamna Stanca", Regional Directorate of Primary and Secondary Education of Western Macedonia, and Srednja skola za informacione tehnologije