Team of Art: Accessibility and inclusion - A focus on what has been achieved
"Europe's cultural heritage is a rich and diverse mosaic of cultural and creative expressions, an inheritance from previous generations of Europeans and a legacy for those to come. It includes natural, built and archaeological sites, museums, monuments, artworks, historic cities, literary, musical and audiovisual works, and the knowledge, practices and traditions of European citizens"[1]
In recent years, accessibility and inclusion have been on the front page of the cultural sector's agenda. Museums, historical and archaeological sites, but also theatres, cities and more are creating and offering alternative to the 'classic tours' and are trying to include a wider audience made of people from all background, culture, and abilities into their space.
When talking about inclusion, disabilities, accessibility and other correlated terms, it is crucial to remember that disabilities are not 'something to overcome'[2], the only thing to overcome 'is chronic exclusion and inaccessibility'[3]. Disabilities and impairments can take many forms, and there is no one-size-fits-all model to addressing them. However, it is undoubtable that everyone benefits when improvements are made, and the inaccessible, becomes accessible.
Small changes = big difference
Let's think about some examples from the cultural scene.
Look at the image below. How often have you been to the museum and seen this exact image?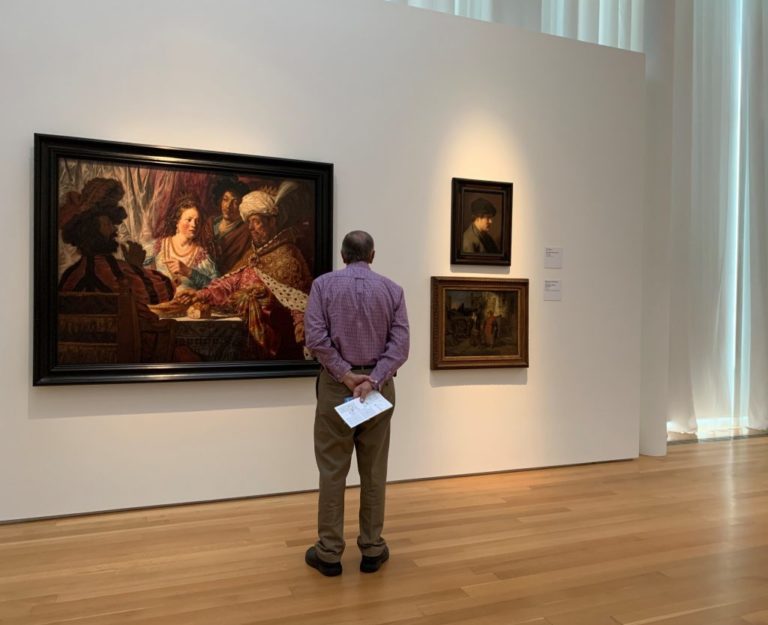 A painting, at eye level of a standing person, with its accompanying plain white label with some technical terms about the period, the painter and the technique used (the older white man is a bonus). This is not an attempt to criticize curators or their work but to point out what a standard display looks like. Curators did not purposefully decide to overlook accessibility adaptations but rather, the lack of exposure to disabilities[4] and their effects creates a silent space that is often not properly filled.
Accessibility in the field of Art can take different approaches. It is often up the curator of the museum, the director of the play, or the event planner to decide the degree of inclusiveness. In our research we did not find any official guidelines, nor regulation set in place when it comes to adapting Art. There are, however, some easy steps that can be followed. Some of these steps include but are not limited to:
Taking into consideration the hang height, but also the plinth height, of paintings and artworks,
Delimiting zones for the visually impaired,
Providing audio descriptions of art works,
Spacing out the artworks to allow wheelchair assess between each piece,
Thinking practically of ramp access, propping heavy doors, having sufficient benches and chairs, …
Printing larger version of descriptive material,
Using plain language and easy-read version of descriptions,
Using signs to let people know if there is to be flash photography,
Etc. [6]
Such small changes can make a big difference. As a simple example, right here in our beloved Brussels, the 'The Royal Museums of Fine Arts of Belgium aim to make their rooms and collections accessible to each visitor'[7]. They are offering visits of their museum tailored for visitors with a mental or physical disability, for the blind and visually impaired public, for the deaf and hearing impaired public, but also for social and socio-cultural associations.[8]
However, inclusion does not stop at efforts made for the blind and deaf, its main objective is to focus on accessibility for all. Nynke Feenstra from Leiden University talks about 'The inclusive museum is […] embedding accessibility in its collection presentation to a multisensory presentation of the artworks'[9]. Using all your senses, not only sight and hearing, allows for an experience with more depth, but also a unique experience for all, altogether. The Van Abbe Museum in the Netherlands for example, designed last year a multisensory exhibition, in collaboration with architects, study groups and target groups from the disable community. In their own term, "artworks are mediated to different senses. Listen to an audio-interpretation of Qiu Zhije's Map of Utopia, smell Max Beckmann's Winterbild and feel the painting Painter with his wife by Carel Willink with the feel-landscape"[10]. You can watch an interview of their thinking process here!
Accessibility in the field of art is not only about disability, it can also mean providing ways for everyone to access the artwork, even if they can't physically be in the museum. As a response to that, in recent years, museums have been expanding their digital collection of artworks and its free, public access.
Museum around the world have been hit hard by the Coronavirus crisis. Forced to close for unknown periods of time, they have had to adapt their art show digitally.
Online, a digital collection often looks like this: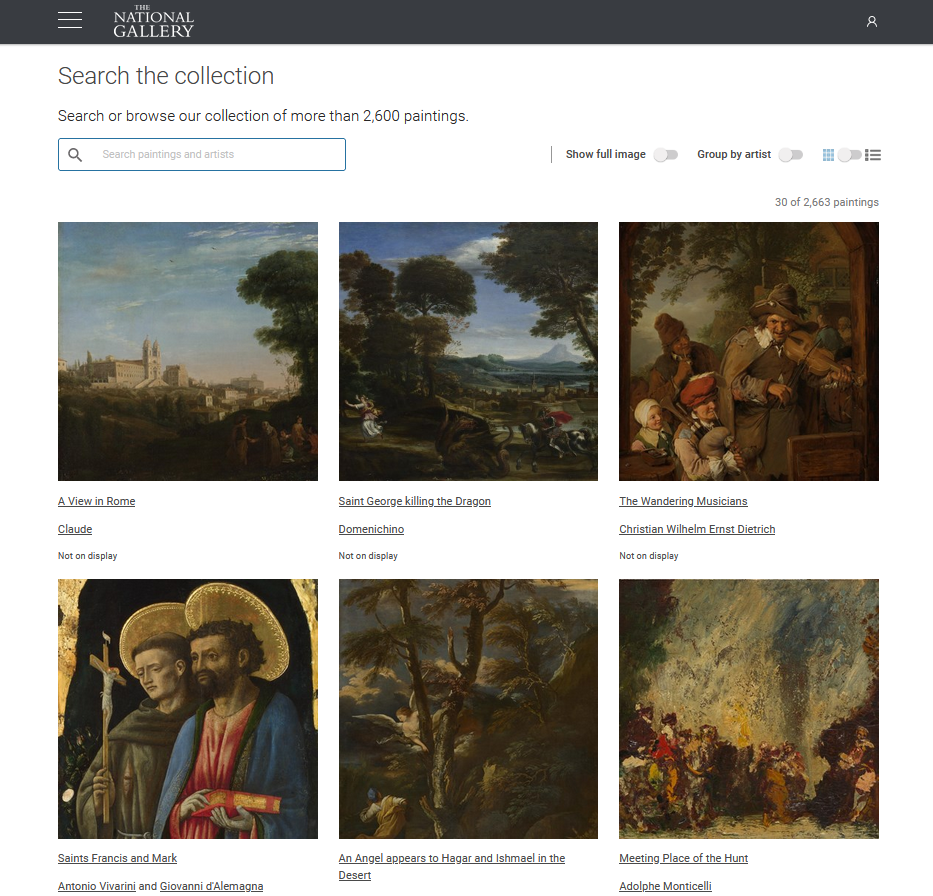 The images and titles are clickable, which correlated with web accessibility standards, but the layout and descriptions, to cite a few, may present problems for people with visual impairments, but also people with SLDs such as Dyslexia (a learning disorder where the brain takes longer than usual to identify and connect letters and words with other kinds of knowledge). Moreover, the language is quite specific, and sometimes too complicated for learners with little to no language skills who wish to interact with European Heritage Culture.
Some museums have gone a step further, and have used immersive videos to project the halls of their museum, with markers to click on each art work and zoom on it. While this tool is interactive and fun, the sweeping left-to-right function can be hard to use, as well as clicking on the small target to see the paintings.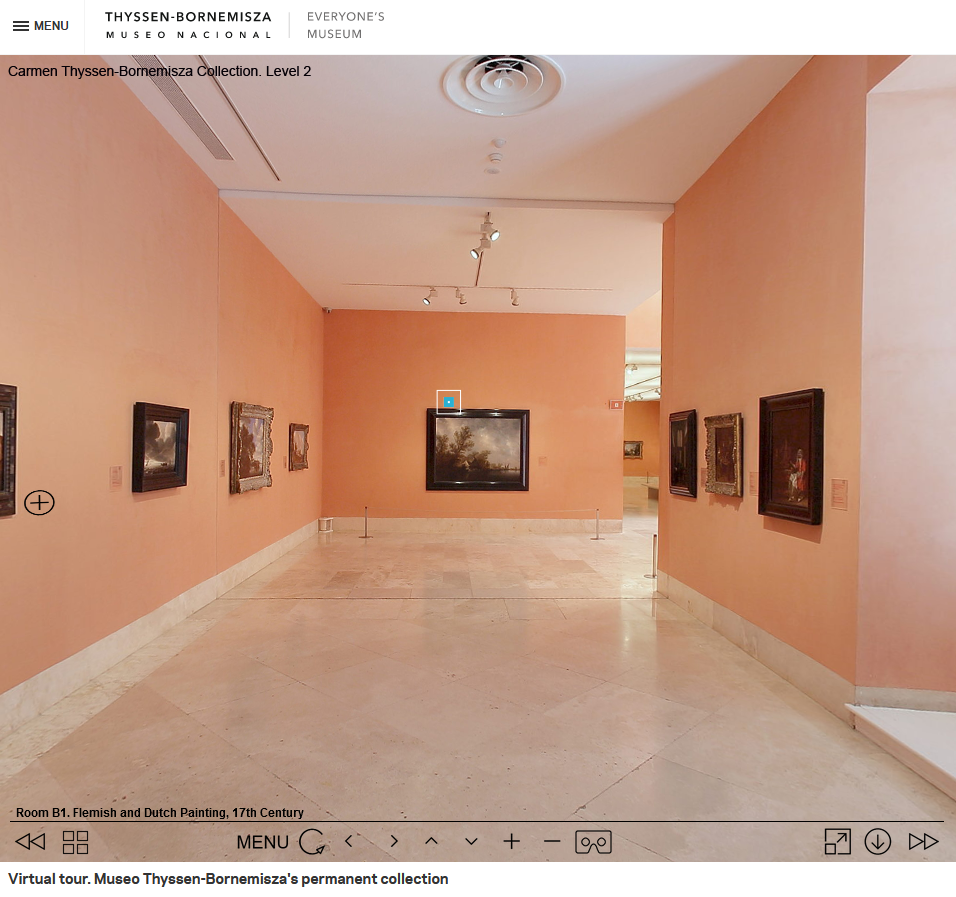 In this sense, online adaptability to art remains a work in progress. As a result of these observations, the TEAM of ART project was developed to focus on the accessibility of images (mainly paintings), as well as the accessibility of the text and presentation, by proposing a narrative and visual experimentation in the presentation of works of art for learners with little or no qualification, with specific needs and other disabilities.
Strengthening European Cultural Heritage is a priority not only for European policy makers, but also for teachers, educators, animators who know that a well-rounded education takes the Arts into account. As accessibility and inclusive material are in the heart of Logopsycom's activities we are looking forward to the opportunity to add our share in this Erasmus+ Project.
Sources:
[1] https://ec.europa.eu/culture/cultural-heritage
[2] https://www.youtube.com/watch?v=7u7DYDZVKu8
[3] ibid
[4] https://learn.ncartmuseum.org/resources/exhibition-planning-and-label-writing-101-top-tips/
[5] https://www.youtube.com/watch?v=7u7DYDZVKu8
[6] https://www.shapearts.org.uk/news/accessible-curating
[7] https://www.musee-magritte-museum.be/en/your-visit/special-needs
[8] ibid
[9] https://www.museumnext.com/article/use-your-senses-overcoming-the-accessibility-paradox/
[10] https://vanabbemuseum.nl/en/programme/programme/multisensory-museum/#
[11] https://www.nationalgallery.org.uk/paintings/search-the-collection?q=&val=1&tpf=&tpt=&acf=&act=
[12] https://www.museothyssen.org/en/thyssenmultimedia/virtual-tours/permanent-collection