Although currently the tourism sector is particularly affected by the Covid-19 pandemic, we do not despair and remain convinced that a post-Covid era will be an opportunity to approach travel, tourism and human relations differently. And why not, for example, consider tourism as a way of recreating links, of opening up to others, whatever their origins, differences or handicaps?
Here it is a question of thinking about inclusive tourism, accessible to all and which can offer great opportunities for those with special needs, such as people with learning disabilities, but also for the deaf and hard of hearing.
In the course of the Tour Friend project, the partners have developed a "Training Guide for people working in the tourism industry to acquire basic accessibility skills". This guide is the second stage of the project and is now available on the project's website.
This guide has several objectives. On the one hand, it takes stock of the infrastructures and measures in the field of tourism which make it possible to guarantee greater accessibility for deaf and hard of hearing people in the different countries of the partnership (Belgium, Cyprus, France, Greece and Italy). On the other hand, the guide seeks to strengthen the basic skills and competences needed by staff working in the tourism industry and youth sectors to meet the needs of deaf and hard of hearing people. The main aim of the guide is therefore to highlight inclusive practices in tourism that can introduce good practices that benefit both deaf and hard of hearing tourists and those working in the tourism industry to better respond to customers with special needs.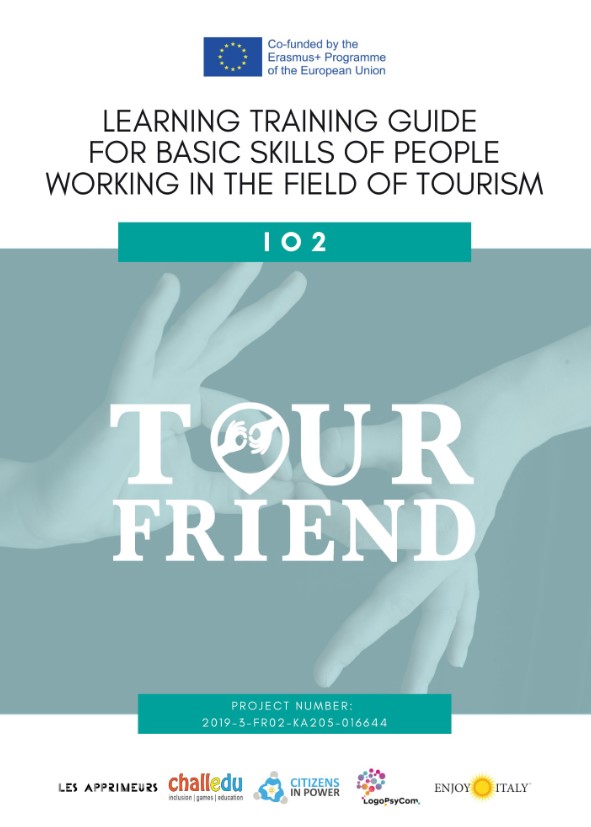 Indeed, it is obvious that a tourist service only exists when there is interaction and it is therefore necessary for both parties to be able to communicate with each other in any way. For this reason, the last section of the guide presents about 40 examples of specific dialogues between people working in the field of tourism, in information or tourist management positions.
Most of the suggested phrases and dialogues will be further developed and used to develop the next steps of the project, namely :
Two video guides to learn the basics of sign language in the tourism sector
A serious game that will be half physical and half digital.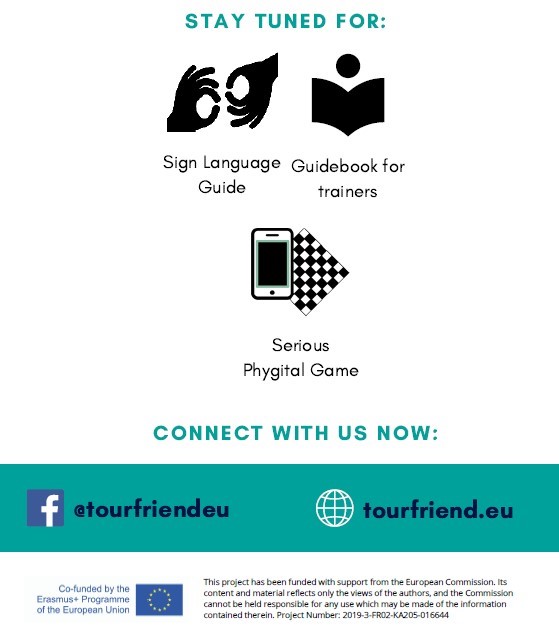 For this project, the partners decided to use the iconic/visual communication and the local sign language of each partner country as well as international signs.
If you don't want to miss anything about the Tour Friend project and keep up to date with the latest productions, don't hesitate to follow the FB page of the project: https://www.facebook.com/tourfriendeu or the website: https://tourfriend.eu/.
Visit the Website: http://tourfriend.eu/


Follow the project on Facebook @tourfriendeu
#TourFriend #erasmusplusproject
In collaboration with: LES APPRIMEURS, Challedu- inclusion | games | education, Citizens In Power (CIP), Enjoy Italy di Alessandro Gariano